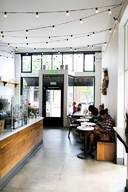 Shop fitters
---
Shopfitters can design, build, install and refurbish fittings and storage units. They are able to build doorways, entrance, cabinets and shop fronts, as well as shops, restaurants and offices.
Shop fitters will work closely with tradespeople to perform the following tasks:
Installation:
This involves installing mobile and permanent fittings in retail spaces, consultation with/and or interior decorators to aid in the planning of design and installation. Shop fitters will see the project through from inception to completion.Shop fitters service the commercial sector including office fit outs. A shop fitter can also supply office furniture such as workstations and desks.
Project management:
A shop fitter may be skilled in carpentry and joinery, they can project manage architects, electricians, plumbers and any other professionals required during the project.
Custom design:
Today, businesses need a unique space in order to stand out in a competitive commercial market. Specialist shop fitters are able to draw up plans, choosing colors, materials, furniture and installation.
Raised floors:
Ensure that there is enough room in the space to install cables, wires and air-condition ducting. A raised floor is usually constructed using a metal or timber framework, on top of which tiling or carpeting can be laid.
Shop fronts:
A shop fitter also plans and installs shop fronts ensuring branding and appearance reflectthe business is correctly displayed. A design consultant can ensure that all the visual aspects are considered in the shop front design and layout.
Shop doors:
Consideration is given to the stores security needs and visual appearance. Glass is more commonly used in shop doors although other options are available
Shelving and displays:
Shelving and rack displays are very important as well as wall systems, counters, showcases cable and pole systems. The units should match the businesses branding and any promotional material should be able to be displayed in a prominent position.
The Role of a Shopfitter
---
• Estimate the cost and amount of materials needed
• Prepare quotes and tenders
• Design and prepare plans
• Follow plans and specifications
• Install counters, shop fronts, workstations and any other fitting
• Order and prepare construction material
• Work with hand and power tools
• Assemble and secure components together for segments of furniture and fixtures
• Assemble fittings and fixtures on and off site
http://www.homeimprovement4u.co.za/directory/category/carpentry-cabinets/
A shopfitter may be self-employed or employed in the following areas:
• Construction companies
• Specialist shop fitting firms
• Manufacturing companies
Cost
Most shop fitters will provide a written quotation for the project, cost is affected by time, cost of materials and fittings used.
If you are interested in looking at more articles about contruction and shop fitters, please visit our homepage!
Articles related to your search: