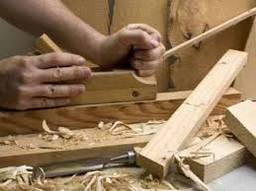 There is a lot to do when it comes to Cabinet making which is the construction and installation of cabinets, cupboards, wall units, shelving, drawers, furniture, vanity units, laundry units and bars. Cabinet makers ordinarily work with wood however new technologies can see them working with anything from metal, rock and then too vinyl as well.
What Cabinet Makers Do
Cabinet makers perform a variety of tasks and are extremely talented, and amongst other abilities can do the following:
· Build and repair custom fixtures or furniture
· Make or repair flat panel products
· Fit and assemble prepared components
· Prepare drawings from job specifications
· Make layouts and templates
· Operate woodworking equipment
· Cut and assemble wood and wood substitute components
· Application of veneers, stains, paints, laminates or polish
· Fit hinges, locks, shelves, drawers and latches where appropriate
· Estimation of materials required and cost of project
Cabinet makers will work with you to help you design the right product for your home and family needs, whatever that product may be. They will be able to design a product that will suit your budget. However, once you and your professional are in agreement, it is important that you stick with what you have decided as modifications to the original design can be very expensive. Here are the various projects cabinet makers can assist with:
· Kitchens: When you embark on any kitchen renovation, you will most likely need new storage and shelving solutions to maximise the new space. A cabinet maker can design, measure, create and install such elements in the kitchen including cupboards, drawer systems and wall units.
· Bathrooms: Cabinet makers can help you maximise space and enhance storage in even the smallest bathroom. They can install built-in cupboards, vanities, shelving and medicine cabinets. This will help your bathroom stay free from clutter.
· Bathroom vanities: Bathroom vanities are a crucial element of any bathroom, keeping knicks and knacks out of sight and the space clutter-free. Cabinet makers can design, make and install the right bathroom vanity to suit your bathroom and budget
· Home Office: A well-designed home office can help take the stress out of work. Cabinet makers can help you utilise the space and design a solution to best suit your needs and budget, whether you want a heritage or modern style, crafted from wood, marble or perhaps laminate.
· Benchtops: Choosing a stylish and practical benchtop to suit your kitchen can be a daunting task. Cabinet makers can craft the ideal benchtop for your space, using a range of materials including marble and laminate.
· Bookcases: Bookcases are a versatile storage solution for storing books, vases, plants and ornaments. Cabinet makers can produce a bookcase using a wood and finish of your choosing. They can also craft a range of storage solutions for special collections of vinyl records etc.
· Built-in furniture: This is a popular option offering seamless integration of furniture with your interiors. Cabinet makers can customise a solution offering you a wide choice of materials, colours, finishes and styles to match the decor of your home.
Choosing a Cabinet Maker
When selecting a cabinet maker, firstly make sure to ask to see their insurances and qualifications. It is also important to ask for quotes so that you have an idea of how much the project will cost. If the work is being carried out in your home, ask for an estimated timeline so that you have an idea of how long the project will take and what kind of inconvenience you can expect (such as not being able to cook while a new kitchen is being installed).
Find out if the cabinet maker will provide other professionals that may be involved in your job such as plasterers, tilers, plumbers, electricians and painters. This will be especially useful if the cabinet maker is working on a bathroom or kitchen project. Finally, make sure to ask if a guarantee is provided on the work.
How Much Does a Cabinet Maker Cost?
Cabinet makers will generally charge based on the amount of time a project takes, as well as the amount of materials used. The quality of materials is another factor to consider - plywood structures for example should cost less than solid timber. They may also factor in travel (especially if you live in a far out location) and also may charge more for their experience!
Please see our homepage for more articles that may interest you;
Articles related to your search: