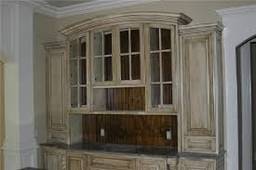 Cabinet Doors
---
Cabinet doors serve a few purposes. Firstly they conceal what is behind the doors and then of course add to the decor of the room. It is therefore highly important to choose the types, styles and designs of cabinet doors wisely as they can enhance or diminish the whole visual appearance of the room. Cabinets can either be free standing, built-in to a wall or affixed to it.

There are a wide range of cabinet door types available to suit any room or personality type.

Cabinet Door Types

Cabinets are typically constructed from wood, steel, glass and synthetic materials and even may include a combination of materials. Cabinets are usually constructed in 2 standard methods with one having a face frame and the other being frameless.

Face Frame Cabinets
Face frame cabinets usually have a 1 ½ inch wide frame on which the cabinet door is mounted.

Frameless Cabinets
Frameless cabinets are constructed without any supporting front frame and the cabinet doors are affixed to the inside of the cabinet box.

Cabinets either have one or more doors attached to the front of the box with special cabinet door brackets and also may have a lock.

Because cabinet doors frequently are used to enhance the decor of a room, various styles, shapes and designs are available to the consumer, and can complement the theme of a room.

Cabinet Door Shapes

Cabinet doors are usually available in 3 basic shapes. These include:

· Curved or radius doors shapes
· Mullion doors shapes
· Glass insert doors shapes
Curved or Radius Doors
These cabinet door types are both convex and concave shaped, and because their superior elegance they are more pricy than any door type in the market.

Mullion Doors
Mullion doors are similar to window glass panes and the centre panel typically is constructed with a glass sheet instead of a solid centre. These glass panels are easy to clean, as the glass panels can be removed, and may be constructed from tempered, laminated or annealed glass.

Glass Insert Doors
These doors are constructed with a solid sheet of glass and therefore without panels which allows it to be available in a range of sizes.
Cabinet Door Styles
Cabinet doors are usually constructed in three different styles although they can also be custom made by a qualified cabinet maker. The three door styles are:

· Slab cabinet door styles
· Recessed door panels styles
· Raised door panels styles
Slab cabinet doors
This type of cabinet door is a flat in shape and normally is made from wood. A number of solid stock lumbers are attached t o each other with adhesive, and can be adjusted according to size with the door edges being plain or detailed.

Recessed door panels
These types of door panels are either decorated or grooved and will resemble a picture frame. The panel edges are adjoined with tenon, miter or mortise joints.

Raised door panels
Raised door panels are most usually manufactured from a combination of solid stock limber and fixed together with adhesive. Raised panels will normally include plywood with wood veneers which are cut dimensionally and fashioned to the desired finish. Other materials which include typically medium density fibre board, are attached and used to create the appearance of a raised panel. These fibreboards are then covered with laminate or painted according to choice of style, design and colour..

Installation of Cabinet Doors
Cabinet doors can be fitted professionally or can be done as a D.I.Y. project. There are a few basic things to think about when installing cabinet doors. These include:

·You will need to measure the opening width and height of the cabinet on which the door will fit
· You will also need to measure where the hinges will be mounted – usually about 5 cms or 2 inches from the top and bottom, both inside the cabinet and on the door itself
· First fit the hinges with the screws on the back of the doors and then lining the doors up and attach them to the cabinet
Choosing a Supplier

When going out to purchase your cabinet doors, ensure that a reputable supplier be used as staff will be able to provide adequate advice on the specific product, and best solution for your home. A reputable supplier will also provide the necessary warrantees and guarantees with each purchase. Perhaps if possible get an expert/the supplier into your home and specific room and ask them to advise you on what will look best. Ensure to compare the prices of similar products from various suppliers in order to get the best deal.

Conclusion

Cabinet doors can hugely enhance or diminish the visual appearance of any room. When considering purchasing new cabinets or fitting new doors to existing cabinets, make sure that the theme, colour and style of the room compliments the space in which it will be utilised. Try to consider the practical value within the aesthetic look and feel that you want!
Please see our homepage for more articles that may interest you.
Articles related to your search: