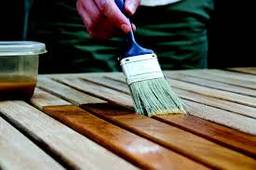 You will find that almost all parts of a home require some kind of coating. Coating materials are extremely varied, from paints and varnishes to vinyl plastic coatings. The advantages of coating materials include the following;
Protection, insulation, safety (non slip coatings) and of course visual enhancement.

Unique Coating Types

Some of the more functional and unique coating materials for your home consist of:

· Roof paints and reflective coatings
· Wood varnishes and sealers
· Protective glass coatings
· Non slip coatings
By applying the correct coating material, you will ensure that your home's physical structure and appearance remain optimal and problem free for years.

Benefits of Coating Materials

Each coating material is designed for a specific purpose. Often, with more than one benefit.

Roof Coatings

Gone are the days that roofs were coated just to enhance a home's visual appearance. Modern roof coatings are designed to optimise insulation, and therefore your home's energy efficiency which in turn will save you costs such as electricity. The roof is the part of the home designed to protect us from the elements of Mother Nature.

Wood Varnishes and Sealers

No other material can be so drastically changed by a coating material as wood. Unlike other materials where coatings cover the surface, the coating is absorbed and actually becomes part of the wood. The right wood varnish can drastically transform a wood's functionality as well as giving it a longer life. Outdoor heavy duty varnishes, for example, can make a piece of wood practically weather resistant.
Glass Coatings

Glass coatings are a new and exciting coating option for homes. Glass being transparent is its greatest advantage but it is also its biggest downfall. On its own, glass is a poor insulator with heat being lost through glass in winter, and also being let in during summer. Glass coatings have therefore been designed to increase insulation properties of glass without reducing its effectiveness. This is good news for people with a lot of glass in their home. Always beneficial for creating a sunny and bright atmosphere as well as enhancing visual aesthetics especially when has a nice view or lovely garden to look at.

Non Slip Coating

Flooring, whether inside or outside, can account for a major number of household accidents. Tiles, wood and cement can be very slippery (especially when near swimming pools or exposed to rain and drizzle, and can lead to serious injury. Non slip coatings can be applied to high risk areas making them safer and easier to navigate.

Coating Applications

Coating applications can be done by professionals or as a D.I.Y project. With the latter being more popular as big money is saved on labour costs and also some coating applications can be done even by those who do not consider themselves to be DIY experts.
However in saying that unless you have adequate experience and knowledge applying coating materials, it is recommended that you obtain the services of a professional. When choosing to do the work yourself, adequate product knowledge alone is not enough. The problem that can arise is that home owners are prone to underestimate the amount of work required to do it properly. Preparation alone can often take longer than the application process, and requires meticulous work for the perfect result. A professional contractor can therefore sometimes be well worth the extra expense.
By applying the correct coating material, you will ensure that your home's physical structure and appearance remain optimal and problem free for years.

Purchasing Coating Materials

Although obvious it must be said that an inferior or incorrect coating material can be far more expensive than purchasing the proper high quality product the first time around.
Not all coating materials are equal in quality, and therefore purchasing the correct coating material is of utmost importance. Scraping off and reapplying another coat because the first coating material is flaking or peeling off, is the last thing you want to have to do! A reputable supplier will ensure employees are well skilled and have sufficient product knowledge and they should be able to give you the correct advice for your specific home improvement needs.
Individuals interested in purchasing coating materials or obtaining more information should browse our website and have access to one of the largest coating supplier directories in South Africa!
Please see our homepage for more articles that may interest you;