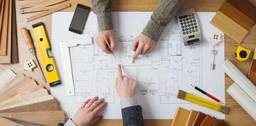 When you are moving house or thinking of making renovations it is important to always contact a Quantity surveyor to have a look at what you planning. They will come and have a look at the feasibility of a project and acquire paperwork that is needed for the project.
Quantity surveyors are required to comply with a strict code of professional conduct which includes responsibility to their employers or clients and to their profession having full regard to the public interest, When you are planning to build onto your house or build a new one a quantity surveyor with his intimate knowledge of building and construction economics will be able to work out a very accurate cost of the building and its materials. This can happen through all the stages of development, this is very important when buidling large structures as it will help decide where to start with the budget you have.
They also help with deciding whether a person is getting their moneys worth in their new buy, not only with regard to the capital cost but also in respect of the running and maintenance cost of a project. So if you are buying a house or even selling one then it is recommended to get their point of view. This can be seen when looking at a house as it should meet the functional side and technological requirements for which the building was constructed, it should be aesthetically pleasing and meet the cost limits of the client's budget.
Quantity surveyors can be very beneficial when starting a project, contact ours at HOMEIMPROVEMENT4U if you like to contact one in your area.
Articles related to your search: