Your first building experience?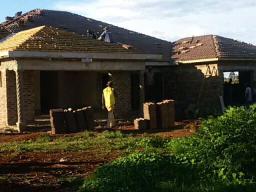 If you have never had your home or office built before, getting started with such a project can be quite intimidating.
Here is what you need to know:
If you have never had your home or office built before, getting started with such a project can be quite intimidating. This is especially true when you want to have a say in every aspect of the construction starting from design. In such cases, the best option is for you to source a good construction company that prioritizes client satisfaction. Remember that the construction project team will consist of many different professionals such as Architect, Engineer, Surveyor and Building Contractor. We, the building contractors, coordinate activities with all the others as well as manage all other activities such as demolition, raising foundation, earthworks, etc. on your behalf.
This is how the construction project will unfold:
The Design
Typically, you discuss your design ideas with an architect and based on your suggestion, he comes up with the final design for your home or office. This is the first step in the process and also the first relationship you establish with the construction team. Your architect may suggest reputable engineers, quantity surveyors and others to you. Your chosen construction company should handle this aspect through a skilled, reputable architect that they have an established relationship with.
Engineering
This is a crucial step and also a legal requirement because this is where you ensure that your design has structural integrity that translates into a long life span for your building.
Quantity Surveying
While you do want the best quality construction, you also want to ensure that every cent you spend is delivering value. This is the Quantity Surveyor's domain. Often, the QS participates in the builder selection stage of the process where he enables comparison by means of getting quotes for the Bill of Quantities from various builders. The Surveyor continues to add value to the project throughout its lifecycle by making sure that expenses are being accounted for and are within the overall budget.
Importance of various professionals
As this is your first time building, you may be unaware of the significance of the various professionals involved and it may be difficult for you to understand that views of one may occasionally conflict with those of another. However, the end product must reflect your tastes as well as adhere to mandatory requirements while also ensuring you sound engineering. Your chosen construction company coordinates the activities of all the professionals involved to deliver this end-result.
Another aspect that requires special attention is the cost. The building process is creative but when innovations are brought in after the design is finalised, they can escalate the costs considerably either because some plans have to be reworked or because the construction timeline is extended. As a client, you may be unaware of the implications of such changes but we should be aware of the risks and allow you to make an informed decision so that you get quality construction that aligns with your desires and financial limitations.
Identifying builders who will give you uncompromising construction quality and service:
The law makes it easy for you to locate reputable, ethical builders but despite all of these mechanisms, there is still an element of risk here. What if you hire a building contractor who is only profit-oriented and not quality oriented? What if your building contractor does not care about complying with the law? You could be left with legal problems, huge liabilities or a house that is unsafe to live in. To ensure that you get quality construction, you should always sign up with a reliable construction company that is affiliated with the NHBRC (National Home Builders Registration Council). Here is how you know you have the right building contractor:
Best quality materials
Yes, keeping costs under control is very important for any construction project, but this cannot be done by compromising on the quality of materials used. For example, low-grade concrete, inadequate rebar placement in concrete slabs and so on, can have devastating consequences for the building's structural integrity. If poor quality waterproofing is applied, the building may suffer leaks in rainy weather. It is critical to sign up with a professional building contractor who is committed to giving you top-quality construction who don't take any shortcuts that could compromise the life span, resilience, or safety of the building. We employ skilled professionals to carry out regular quality checks at various levels so that our high standards are maintained.
Quality workmanship
Even with the best quality materials at your disposal, the building's construction may fall short of your expectations when the work is done by inexperienced or poorly trained workers. It is important for the building contractor to hire workers with skill and passion for top quality construction work. In particular, this is important when you want reliable building construction for your property because only skilled workers can translate a creative design into reality. That is, whilst small settlement cracks are normal, rapidly expanding cracks that indicate a lack of structural integrity are most certainly not acceptable!
We pass on this old fable to you. There lived an old construction worker who, after having worked for his employer for decades, was all set to retire and get his retirement payout. His employer asks him to build one last house. The worker, tired and jaded, builds it quickly and carelessly, only aiming to get the job done as fast as possible. The house is finished and the employer thanks the man for his years of service and hands him an envelope. Instead of money, the worker finds a key inside. It is the key to the house he has just built, hastily, without any care for quality. Our workers always build as if it were their own house they were working on.
Communicative and friendly
It is your house that is being built and that means you should expect to be involved and informed about everything that is going on. Choose a reliable building contractor who is committed to giving you regular updates about the progress and who will be transparent and honest about every aspect of the work being done. Your construction company should understand that being openly communicative with their clients and maintaining a friendly relationship with them helps build a relationship based on trust. That is our goal, to show our clients that they can trust us to give the very best, just as they deserve.
Articles related to your search: