Tips for creating your home library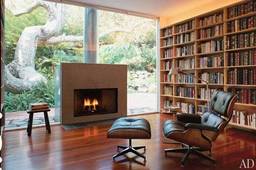 If you're a lover of books and have a passion for all things literary, why not set aside a corner for a library in the comfort of your home. Follow this checklist to make sure you're library is complete with all the necessary basics.
Make sure you choose a spot in your home that is relatively quiet and peaceful to ensure you get the best out of your personal reading spot. Your library should also have plenty of natural light to ensure easy reading.
Make sure your plan your library space with a focus on how many books you have and how you wish to display them. For large amounts of books, floor to ceiling bookshelves are a good option. Make sure you have some open space on your shelves for new books. Ensure you store your books correctly with the spines facing outward so that you can easily select the publication you want.
The mood and atmosphere of your library must be conducive to relaxation, focus and calmness. Decorate your library space with neutral coloured, or simple geometric decor and ensure you have comfortable furniture.
Your library needs a regular cleaning plan to keep it spotless, dust-free to maintain the quality of your books. Books are vulnerable to damage and mould if they are not properly cared for. By dusting and cleaning your library regularly, you'll be able to avoid allergies and respiratory reactions which are common problems for sensitive people in areas with many books.
Your library also needs an effective ventilation system to prevent dampness and mold spreading between the pages of your books. Install a system to promote air circulation too, such as a fan. Prevent any dampness in your library by ensuring all windows are securely shut during rainy weather.
Articles related to your search: