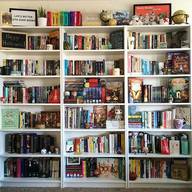 Book Cases and Cabinets to Enhance Your Home
---
Whether modern or traditional, there is a suprisingly diverse range of options to choose from when it comes to installing book cases or cabinets in your home. Book cases and cabinets are an essential addition to a home office, bedroom or living room. They can be used for purely decorative purposes in the display of antiques, art, or heirlooms and add charm to a living space, or for practical storage. Economy of space is also enabled by book cases and cabinets as they are ideal for removing clutter from a room.
Customized bookcases and cabinets can also be designed to function as entertainment centres for storing media hardware such as sound or TV equipment. Customized book cases and cabinets that suit your specific needs are worth the effort of organising as they perform their ideal function and compliment your living space.
Flexibility is one of the most important aspects to consider if you decide to customise your book case or cabinet units. For example, shelving heights should be adjustible to fit your changing storage needs. The quality of materials you choose are also vital to ensure the longeavity and aesthetic of your bookshelves or cabinets. Remember to consider choosing materials; such as hardwood, that are stable under temperature and humidity changes and can resist wear and tear over time.
Deciding where to place your book cases or cabinets is another important decision to be made with consideration for the layout and harmony of the rest of room. Book cases and cabinets must blend seamlessly into the flow of the room in order to prevent them appearing bulky. For example, book cases can be ladder-styled, cube-styled in cubby-like sections, or built in in order to maximise floor space.
Finally, don't be afraid to get creative with your book cases and cabinets. Installing lights into custom-built units, or doubling your book case as a room-divider, can add a fresh twist to these essential additions to home décor.