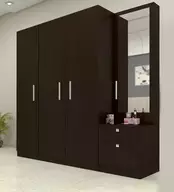 There are multiple types of wardrobes that you can buy that can suite all your needs, firstly you will need to measure the space you have in your room for it and then do the necessary research to chose what you would like, here is a short list to start you off:
Built in Wardrobes
If you have an awkward space in your room, a built in wardrobe can benefit you, these can be built into any kind of space if you are willing to put in the time and money. These can be built into the L-shape corner of your room if you have one. Odd corners and unused space cn be utilized to build these
Free Standing Wardrobe
These are the most versatile types of wardrobe to have in your room, if you are someone who would like to move their room around seasonally then this would be the best idea for you. They are relatively easy to move and can fit in most rooms, one of the downfalls is that even some of the biggesr are a little short of space.
Fitted Wardrobes
The stigma behind most old wardrobes is that they are unnatractive, the more modern ones that have come about have a new look and still have the same old benefits, they go from floor to clealing so they offer more space then that of the free standing wardrobe. They often have sliding doors, this helps save the effort of makng sure there is still space to open the door.
For more information about getting a wardrobe in your room call a proffesional in your area from our site.
Articles related to your search: