Winter time is: Painting Your House Time!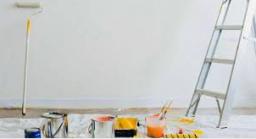 Now is the time to be painting your home!!
Winter time is: Painting Your House Time!
Now is the time to be painting your home!! Before painting your home, decide on your paint budget and then add an extra 10% to that budget. For all the extras you don't think of straight away, like the ground sheets, the thinners, the paintbrushes(yes more then 1 or 2), the bucket to rinse the paintbrushes, the sandpaper, and the spare paint for inevitable touch ups.
Have fun with choosing your paint colour! Our go to preferred paint brands is Duram, Dulux and Plascon( this all depends on your budget, but all these brands are excellent quality). Don't go cheap or you will be painting again very soon! You want your fruits of hard labour to last and to make your home be something you can be proud of!
Ensure you have some old clothes to wear(they will get paint on them) and a good degreaser in your kitchen cupboard to wash your hands at the end of the day. Start by prepping your walls. Fill up all your cracks in around your house and give the Polyfilla a fair chance to dry in the nice warm winter sun. Once it's dry, sand down your walls. Paint your base coat and then your final coat, we recommend at least two coats. We love a roller paint brush to cover the main walls and a 30mm paint brush for all your corners, and grooves in your gutter/roof areas.
Do a final walk around once your walls are dry, take a few steps back , and just get a partner or a trusted friend to show you any spots you have missed or not painted in full. Touch up, allow to dry and voila ! You just completed painting your home!
Remember to give your paintbrushes a good wash with some thinners and allow them to dry. Don't forget to close your paint tins well and store them where they won't get knocked over. A handy tip is to just use a black marker pen, write on the lid, the date, the colour, and where you bought your paint from.
Happy House Painting Days are Here!
Holly and Jorge
Laravis Owners