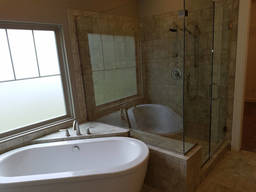 Time to redo the bathroom but cannot decide which bath or shower to choose? Well this can be a very enjoyable job instead of a chore, Choosing your bath and shower can be an exciting DIY experieince for you and can give you the bathroom you always wanted.
Before you begin this job the first step is to turn your water off all over the house, double check this by turning on taps in the house. DIsconnect the water inlets from either your bath or shower, check the inlets and see how big they are, the size of inlets has changed and become slightly smaller. It is now time to remove you shower or bath installation, if you are wanting to plaster then you will need to cover the pipes with newspaper so no plaster gets inside, allow any new plaster to sit for 24 hours before continuing. If you are wanting to change the location of your plumbing it is recommended to hire a plumber.
There are many different types of baths to choose from, you can choose the free standing bath, corner baths or even sometimes spa baths. When the bath comes it will usually be covered in film or protection do not remove this until you have finished the installation You must then decide on how high you want your bath to be, 450mm is the recommended. When it comes to choosing a shower there are also a variety of choices, you can combine your shower and bath or have a standalone shower. This is usually based off what is more convienient for the space in the room. The rest of the instructions usually come with the pieces you have bought for the shower or bath but if not contacting a proffesional is recommeded as they all can slightly differ.
Articles related to your search: