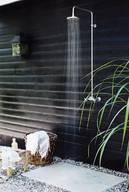 Showers
---
There are always two types of people; cat people and dog people, tea drinkers and coffee drinkers, bath people and shower people. If you fall into the latter category, it is presumed that your shower is your haven. At HomeImprovement4u, we can cater to ensure that you are able to purhcase and install the shower you can't wait to get in to and can't bear to get out of.
Showers have come a far way from just being a shower head and four walled area, showers are now available in a variety of styles and functions that ensure a personal experience for its owner. Below are a few examples of different showers that may inspire you if you are looking to change to look and feel of your bathroom.
---
The Outside Shower
---
Having an outside shower is often viewed as somewhat liberal and eccentric. However, this is far from the truth. An outside shower is a valuable asset to your home that speaks of individuality and adventourous taste. An outside shower allows you to spend a few minutes a day outside of the house and in your garden - a priviledge we often take for granted! They are also ideal for rinsing dirty feet after a long day outdoors.
Dual Shower Heads
---
Showers with dual shower heads are slowly and surely becoming an essential in modern day homes. These showers are designed with two shower heads that are able to run water at the same time. This style of shower is perfect for families who enter a warzone in the morning over who showers first!
Open Showers
---
When we're younger, we learn to draw homes with four walls. However, as a we grow and experience the world we learn that homes and the items in it can be expanded far beyond those constructs! Showers no longer have to be surrounded by glass frames or sticky shower curtains, but can be completely open and uncontained! These showers ar perfect for those who have visions and taste that are open plan and specifically minimal.
HomeImprovement4u believes that you deserve the home and appliances that you want, and we're here to ensure you have access to those who can help! Visit our homepage for more information on showers and shower installation.