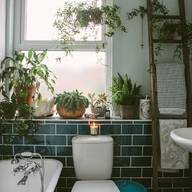 Bathroom Accessories: Colour, Lighting, and Creativity!
---
Your bathroom may be a private space that not all guests are able to appreciate, but taking the time to make it the best place to start your day will be well worth it. We've compiled a short summary of tips and tricks to get you on track with designing a bathroom that is both functional and beautiful.
Colour is one of the best places to start when designing your bathroom- and there are so many options to choose from. A popular choice of palette for a bathroom is nautical colours. These include blues, whites, and hints of bright colour. For a classic bathroom design, a white colour scheme with silver accents is also popular, especially when one wishes to maximise the brightening effects of natural sunlight and a feeling of spaciousness.
Strategic lighting is a subtle but vital bathroom accessory. Sconces directly above one's bathroom mirrors are a popular trick to enhance the sense of light and space in the room, as the reflection in the mirror gives the appearance of a larger surface area. If you are more interested in taking advantage of natural light, shuttered windows may be the bathroom accessory for you. They allow for a pleasing natural light to enter the room, but not at the expense of your privacy.
Embrace creativity when it comes to choosing design elements and accessories for your bathroom. One of the best ways to do this is to explore different patterns, tile colours or uses of greenery in your bathroom.
Dynamic patterns can be used in a bathroom through bold wallpapers. Patterned or boldly coloured wallpaper is the perfect accessory to use if you need a pop of colour in your bathroom. Colourful tiles are another bathroom accessory that can be both convenient in a space that often gets wet, and visually appealing if you want a patterned or colourful floor space against plainer walls. Finally, a splash of greenery in a bathroom is an often needed organic break to the geometric shapes that characterise most bathrooms. Greenery is a wonderful accessory that can contribute a sense of life to your bathroom and prevent it from seeming too stark or cold. Good plant options include Dracaenas or Boston Ferns.
Articles related to your search: