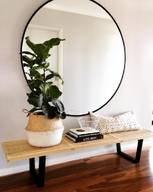 Mirrors
---
Mirrors can be used throughout the home with great effect and can be used to enhance the feeling of space and light within a room or an outdoor area.
Frameless mirrors have a polished or beveled edge. A slight slope or chiseled edge is cut into the mirror to create this finish. Mirrors should be 4 or 6 mm thick depending on application or size. Mirrors may be framed or frame less.
There are many different types of mirrors; they may be segmented, curved, sandblasted, etched, beveled, tinted enabling you to choose the perfect mirror for your home. Most mirror or glass companies are able to cut mirrors to your specification creating something unique. It is even possible to install a mirrored splash back in your kitchen or bar.
A professional should be able to provide a non-obligation quote and advice!
Please see our homepage for more articles that may interest you;
Articles related to your search: