Glass Splash Backs: a versatile décor solution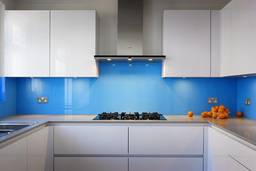 Glass splash backs are a popular design element that has been in use since the 1990s. Splash backs are composed of coloured cladding made of glass and are often found in bathrooms or kitchens. They can be either functional, or purely for design purposes, and are seen in household elements such as art, signage, flooring or partitions.
Glass splash backs can lend an element of lightness and colour to areas of the home both internally and externally. They are known for being low-maintenance, durable and hygienic, because they do not collect dirt and dust and are easy to clean with a simple wipe of any common, household cleaning agent.
Glass splash backs are most commonly found in the kitchen, where their benefits are numerous. Some of these benefits include the provision of aesthetic light reflection, multiple colour and design choices to liven up a living space, heat resistance around cooking areas and ease of cleaning after a messy day in the kitchen.
Some of the most common types of glass splash backs include mirror-toughened glass, textured glass and standard toughened glass. Textured glass used in glass splash backs have creative patterns or textures that can be customised. The product will be smooth on one side for easy application, and textured on the other to give the desired effect.
Mirror-toughened glass has a reflective mirror backing that has moisture resistant qualities. This variety is therefore perfect for bathrooms and comes in colour variations like silver, graphite or bronze.
Finally, standard toughened glass is the most affordable option for glass splash backs and reflects the colour of the wall behind the splash back instalment. One should be aware that the iron content of this variety causes the glass to have a subtly green tinge, which may alter the colour of the glass splash back once the installation is complete.