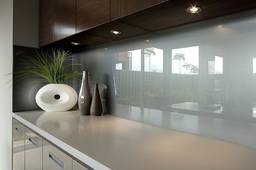 Splashbacks
---
Working in your kitchen should be something pleasurable and as hassle free as possible. Splashbacks can ensure that your kitchen remains hygenic and clean in the midst of the fun and mess. Splashbacks are a stylish addition to your home; they are mainly protective in nature and often found in kitchens, bathrooms and laundries. They defend surrounding materials from moisture and from fats and oils. Your choice will depend on budget, appearance, function and ease of installation.
There are splashbacks for any type of kitchen, depending on style and space. Below are just a few examples:
Stainless Steel
These provide a modern minimalist look, are easy to clean and install, stain resistant and are able to withstand high temperatures. The sheen of the steel has a reflective appearance and therefore can make your kitchen appear larger and more spacious.
Toughened Glass
Toughened glass splashbacks are a popular choice. Glass is available in many different colors and offers a beautiful decorative appearance. They are easy to clean and come in a range of finishes, they may also be custom made using your own designs and artwork.
Tiles
Tiles are a more traditional form of splashback and a popular choice. A wide range of colors, textures and sizes are available on the market. Installation is slightly more technical and mold can appear on the grout lines, however, they are easy to clean and well worth the protection of your kitchen.
Stone and Granite
Stone and granite splashbacks can match your cabinet tops and can be installed as one flat piece. This makes the cabinets appear larger and provide a smooth look of continuity. It is resistant to chipping making it a safer and more durable option. It is easily cut and shaped for electrical fittings.
Mirror
Those in search for an edgy aesthetic should be on the look out for mirrored splashbacks. The use of mirrors add a sense of space by reflecting light.
Laminate
Laminate Material comes in sheets and is very easily installed and available in solid colors and styles. The same material and color as the cabinets may be used as your splashbacks.
Materials for splashbacks can be sourced from specialist suppliers, ardware and bathroom stores, and home improvement centers. Customized splashbacks can be designed and manufactured by specialist providers. Shop around to explore all the options available to you
There are a variety of options for Splashbacks within your kitchen, visit our homepage for more articles and ideas to inspire you.