How to keep your baby's nursery pest and bug free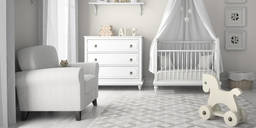 A baby's room should be the safest room in the house, considering your precious newborn will be spending most of his/her time there during the initial stages of their life. As a parent, keeping your baby's room free of any insects or pests that could bother or potentially harm your child is a must. Here are some guidelines to ensure your baby is not bothered by household creepy-crawlers.
Some common pests you need to keep away from your baby's room include flies, moths, ants, rodents and spiders.
These pests may be attracted to a baby's room in particular for a number of reasons. Loose particles or bits of sweet and salty food and baby food or snacks for your little one can often attract pests, especially if your baby is a messy eater and is likely to leave spills behind after eating that you may not notice. Spilt milk or formula can also attract pests like ants and flies.
The odour of a dirty nappy or odour around a changing station can also attract flies, no matter how much cleaning you do. Soft cotton clothes and blankets for your baby can also attract moths, which feed on cotton fibres and in the process, leave holes and tears in your baby's things.
Pests such as these can carry diseases, inflict stings or bites, and pose a threat to hygiene.
To reduce the chance of this happening, always make sure you keep your baby's room clean. Avoid letting dirty clothes pile up, especially those with food stains on them. Scrub away any food, juice or formula spills as soon as they happen with a vinegar and baking soda mixture to remove any lingering smell and marks. Sprinkle the affected area with baking soda and pour two tablespoons of vinegar on top. Wipe and vacuum this after application.
In addition to this, remove all soiled clothes and nappies as soon as you can from your babies room.
Seal any food, formula or sweet drinks in air tight containers to prevent pests from being attracted by what is stored in your baby's room.
For repelling moths, ants or rodents, as well as other pests, make sure you use repellents that make use of natural ingredients and that do not contain any harmful ingredients.
Articles related to your search: