Articles related to your search:
Tree Felling
Felling a tree is never a task to be undertaken lightly.
Read more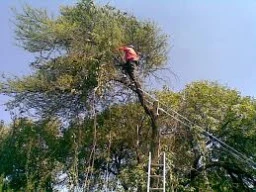 Tree Felling
Trees need to be felled for a variety of reasons. Ensure your tree feller is a qualified professional and has the necessary insurance and equipment to complete the job. Always ask for a written quotation. Enquire if there are additional costs to have the tree removed or the wood chipped for mulch. Check if you require permission from the local municipality to remove the tree, the tree feller should be able to offer advice!
Read more