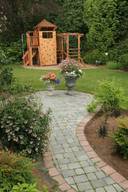 Many of you who are reading this will be looking to find a way to give your child a childhood that is filled with activity and outdoor play. Unfortunately, children aren't as free to roam around as they were a few years ago. They are often confined to the parameters of their homes and turn to television and technology to pass the time. Being worried about the safety of your child outside of the home should not mean compromising the active lifestyle they can still have right in your very own garden!
A large part of a child's development is based on how they interact in an active and outdoor space. Whether this includes swinging from monkey bars or creating castles in a sandpit, your child will create memories and skills that surpass anything they can learn from a screen. Playing equipment in your garden doesn't have to be an ostentatious and expensive project, but one that can be approached in a simple manner and reaps amazing benefits. A child that has a safe space to be outdoors creating, imagining and playing is a child that will be healthy in both mind and body.
Each item of play equipment that you add to your home is entirely up to you. It doesn't have to an entire set or an eyesore. A well-chosen piece of play equipment can add value to both the aesthetic of your home and your family life.
A swing set doesn't have to be an unsightly, multi coloured contraption. You can incorporate swings that are amongst trees and in the midst of your garden. Using wood allows you to create a gentle and calming aesthetic.
Swings allow both you and your child to use the play equipment. You can take time off from your day to push them or give yourself a break whilst they entertain themselves. Swing sets allow children to experience a magical experience with gravity that will enhance their sense of adventure and excitement.
Again, we can see here how play equipment is being revolutionised in terms of it being suited to your home and style. This sandpit has been used in a way that doesn't even require your garden to be upturned and dug out! However, if you would prefer a sandpit to be placed in your garden, professionals can do so in a way that is suited to your home. Sandpits are one of the best ways you can introduce your child to nature and imagination. In a world where parents are constantly fretting over their child being clean and protected, a sandpit is a brilliant way to allow your child the freedom to experience the earth and what it has to offer.
These are only two examples of play equipment that would be in immeasurable asset to your home. Whether you choose to include a single piece of play equipment or an entire jungle gym, your child will benefit greatly. Psychologists have done studies that prove that a part of a child's fundamental development is creating an emphatic bond with nature. Giving your child a timeframe that is unmonitored and unsupervised to play and be active will make a significant change in their development.
If you feel that you would like to look at more articles that involve your garden and other projects, please take a look at our homepage.
Articles related to your search: