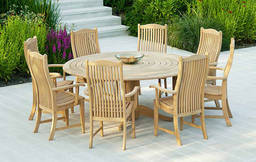 Sublime Outdoor Décor: Finding the Perfect Garden Furniture
---
Whether you're looking to lounge outside on lazy summer days, enjoy a family-friendly poolside set-up or indulge in a classy patio dining unit for sundowners; garden furniture has a central role in your outdoor living experience. Choosing the right garden furniture for your patio will allow you to spend valuable time with family and friends in a comfortable and relaxing space. Here are some guidelines to finding the perfect garden furniture:
Firstly, consider what the primary purpose of your garden furniture set will be. How you design your outdoor area will change depending on whether you wish to hold large outdoor gatherings, or simply want a quiet garden space for the family to enjoy. Also consider whether or not your garden furniture set should be conducive to serving meals; in which case you need a dining table and chairs, or whether you simply want a place to relax in the day; for which hammocks or comfy sofas may be more suitable.
Secondly, ensure that you consider the available space you have in your outdoor area before buying certain garden furniture. To keep the area easy to navigate and to avoid the discomfort of overcrowding, keep your placement of furniture balanced and do not buy furniture that is too big. Flexible garden furniture items in your outdoor area can also allow you to take full advantage of your available space. For example, consider using free-standing umbrellas that can be moved from place to place, a veranda screen to protect your area from bad weather and create a private space or accordion tables that can be extended when you have guests.
Thirdly, choose materials for your garden furniture that are long-lasting and provide value for money.
Durable garden furniture should last for years if you purchase items made with good-quality materials, weather-resistant material or fade-resistant finishes. Remember, your outdoor area is an extension of your home, so invest in quality products to get back years of quality time.