Garden Landscape and design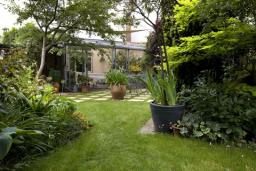 If you are wanting to add some extra design or aesthetic to your garden then this can be done alone, with a few simple tools and tips making your garden look how you want can make your summer home feel more bright.
Adding the Curve
In your garden there is bound to be a curve in between the grass and flower bed, the best use of this curve is to add some bright flowers all the way around, this natural curve of colours can make your flower bed look much more aesthetic and welcoming.
Natural Flow
Using the grass in your garden and brick pathing, try make a natural flow through your garden, if you have the bonus of a pool utulize the shape and have a path leading up to it and from it further into the garden. This path must have a end, this could be a sucluded area to relax or if you are lucky enough a view of the end of your garden.
Trimming
Trimming your trees and bushes so that they are not so dense allows for more natural light flow into your garden. This light allows for more of a pop of colour to the plants in the lower parts of your garden, it also adds health to your garden so that it will grow back flourishing.
Paths
If there are footpaths leading into the dense bush of your garden this can be used to make nice cut up sections in your garden. Make sure that you flatten the sand of the footpath and possible widen for a batter look, then choose a typoe of rock or pebble and spread them onto the path and make a path that leads into the dense bush