Articles related to your search:
Automatic Gates
Automated Gates Having an automated gate is often first choice for majority of homeowners. An automated gate can be opened via remote or from a control inside the home, making it an investment that leads to comfort and convenience. Automatic gates now come in a variety of styles and variations, each suited to specific homes. In order to invest in the most beneficial style of automated gate, you should definitely have at least a basic understanding of the different options available to you. Different gate styles are better suited to different
Read more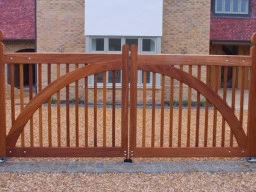 Wooden Gates
Filling the gap, creatively: wooden gates Whether you're looking for a delicate garden doorway or a large driveway gate, wooden gates are an appealing option. Their old-world charm and rustic appearance make wooden gates a firm favourite amongst homeowners of country cottages or suburban properties- they truly are a versatile option. Wooden gates are perfect for a variety of areas around the home. They can be used as driveway gates with solid vertical bars, or with reinforced steel plates, to make sure the wood remains sturdy and protective.
Read more