The best gym equipment for at-home fitness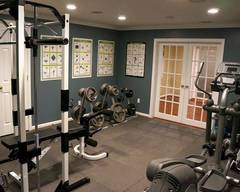 When there's so much to choose from in terms of home gym equipment, it can be hard to decide on what works for you. Here's a quick and easy guide to a few essential home gym additions that you can easily afford, use and maintain to get the body and lifestyle you want from the comfort of your home.
An important tip to remember before buying equipment is to plan what you will buy around a budget. You should also make sure that what you buy is not too complicated to use by yourself at home, and that the equipment you buy allows for a variety of exercises and workouts in your home gym.
This means that you should aim to purchase equipment that focuses on a more than one area of the body. A well-rounded gym has elements that focus on both strength and cardio fitness in order to get the best results from home workouts.
A barbell and weights are some of the most basic and easy gym accessories you can buy. Barbells come in two popular designs, one is the standard barbell which is suitable for lighter weight lifting and is a great place for beginners to start. Olympic barbells are another barbell design and are purposed for heavier weight lifting, which makes them more suited to experienced gym-goers.
A power rack is another popular and extremely versatile type of training equipment that you can use in your own home. Power racks are strong, metal frames with pins that can be adjusted to the perfect height for support during weight lifting. They can also be used for common exercises like pull-ups.
Bench presses are a gym staple and are used for a wide range of workouts. A bench press is a cushioned platform, which can provide support during strength training exercises, weight lifting, and even cardio exercises. Another easy way to add a cardio dimension to your gym is to buy a simple skipping rope.
Finally, consider investing in mirrors, gym mats and a simple music system to give your gym a motivational atmosphere.