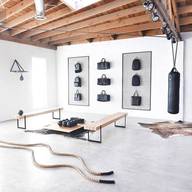 Home Gym Equipment
If you are a person who prefers to exercise in the comfort of his or her own home as opposed to a large, busy gym then a home gym is a beneficial decision to make. Investing in home gym equipment gives you the freedom and ability to exercise at your own pace and in a way that is suited exactly to your needs. It can be a daunting task trying to choose exactly what equipment you want in your home, but figuring out what you want and need is easier than you think!
The first step to finding out what equipment will suit you and your lifestyle is to understand what your fitness and health goals are. If you are somebody who is interested in getting physically fit and healthy in terms of stamina, then you should be looking at investing in cardio equipment. If you are somebody who is looking at strength training, you should be investing in equipment that is focused on weight training and resistance. Most fitness professionals will tell you that it is more beneficial to incorporate both styles of exercise into your fitness regime, in order to have a healthy balance between cardio and strength. Below are a few examples of different home gym equipment pieces that will get you on a good track towards fitness, health and vitality!
Strength Equipment
If you are primarily focused on goals that revolve around muscle training and strength, there are specific pieces of equipment that you will need. Equipment designed to strengthen and tone the body place a large focus on weights and resistance. Various pieces of equipment will assist you in incorporating tension, body weight, external weights and resistance at varying levels. Strength equipment can come in the form of heavy-duty professional equipment right down to simple, portable home equipment. The prices will obviously range depending on the model and professional quality of the equipment. You do not, however, have to empty your pockets to be the owner of effective home gym equipment. Below are a few examples of pieces that will benefit your home gym and training regime:
Hand Weights
Hand weights are one of the most basic assets to a home gym. Hand weights come in an extensive range, starting as low as 1kg. Hand weights can also be used on a central bar that allows for a variation in training and how the equipment is used.
Ankle Weights
Ankle weights are fantastic for creating a more dynamic element to your normal exercise routine. Ankle weights are portable and a beneficial piece of equipment when strengthening your muscles. Ankle weights create a resistance between your body weight and external weight.
Cardio Equipment
Cardio is exercise that focuses on accelerating the heart rate and blood flow throughout the body. If your exercise routine revolves around fitness and endurance, then cardio equipment would be a good investment.
Treadmills
A treadmill is a machine that helps its user to mimic the activity of running or walking without actually covering any distance. Treadmills are perfect for people who live in places that are not necessarily "running friendly". You will be able to get in your cardio workout without going outside. Treadmills come in various models and styles. Ensure that you choose a treadmill that has flexible surface and strong motor that will last you a long period of time.
Stationary Bicycle
The concept of the stationary bicycle is very similar to that of most cardio machines – it creates an outdoor experience and places it inside. Making use of a stationary bicycle in your home is extremely beneficial to the health of your heart and general fitness.
In order to have the most beneficial home gym, choose various pieces of equipment to ensure you have a balances routine that helps both your strength and fitness levels. For more articles that may interest you, please visit our homepage.