Safety tips for enjoying your home gym risk-free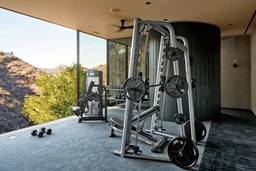 Having a home gym is one of the most convenient ways to make sure you keep to your fitness goals. When installing and using your home gym, make sure you are aware of some of these safety tips to ensure you get maximum use out of your home gym with safety as your top priority.
Ensuring you have good form when weight lifting is one of the foremost safety measures for a home gym. The golden rule of good form is to avoid using a weight if you are unable to lift it with good form. Good form practices allow you to be better at certain exercises, limits the chance of injury and allows you to exercise safely for longer.
If you are training with heavy weights at home, use a spotter or gym partner to make sure you train safely. A spotter is vital for exercises such as squats or bench presses. Spotters can also be helpful when it comes to maintaining good form as they have a better perspective to watch and make sure you are using your weights safely and correctly.
Make sure you stay constantly hydrated when exercising at your home gym. This is especially so for home gyms that don't have air-conditioning. Replenishing your fluids is vital to ensure you don't become dehydrated and faint.
Warming up before a gym session is also an important safety tip to make sure you don't damage any of your muscles while exercising. Start slowly with exercises like running and gradually increase your speed and always put an extra focus on stretching out muscle groups that you will be focusing on for the session.
Finally, only lift weights that you can manage and that your body is strong enough for. This is an especially important tip for beginners whose muscles are not used to unusual weights.