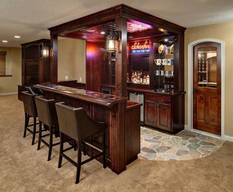 When you have your own bar at home you want to make sure that everything works well, and everyone can enjoy a nice gathering and some drinks at the bar. This all begins with using the best cleaning equipment and making sure all your equipment is cleaned thoroughly.
Always clean your soda gun and dispensers, these nossles breed grime and bacteria. A regular and thorough clean will prevent any spread of bacteria that may spread to any galss that it is poured into. Don't forget about your fridge under your bar. Although there isnt as much besides liquid going in and out it is easy for bacteria to build inside. A clean once in a while before your are hosting any event is recommended. If you have wooden furniture like bar stools and such make sure that they are not exposed to extreme heat or humid weather, this causes faidng of finisher.
Do not place gl;ass of plastic that is full on wooden table, this will stain the finisher. You can also wipe the table weekly of any build of dust, this can prevent stains from glasses. One tip when having a night around the bar is makng sure you clean as you go, do not let a spillage sit for a while, make sure it is wiped up afterward. Any undermatting you may have around your bar you must pick up and sweep, this easily gets forgotten and collects lots of dust and bits of food. Try not stack glassware ontop of each other as it can have some health issues.