Creative ideas for making a children's playroom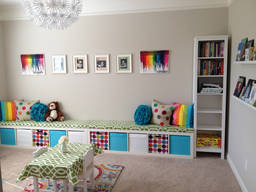 A playroom for your children can be one of the best ways to stimulate their creativity and development, with the added advantage of having one area of the home where messes, spills, and messy fun are perfectly acceptable!
When designing your children's playroom space, keep in mind their individual personalities and interests to ensure you build an area perfectly suited to their characters. For example, if you have a girl interested in design, colour, and hands-on play, building toys like Lego or puzzles are a good idea.
Invest in toys and activities that are age appropriate for your child's developmental stage. Look for the age recommendation on toys and make sure you only buy tested products, which have certified safe parts. This is to ensure that aspects of your child's play things have safe paints, plastics and metals as some chemicals in toy products can be dangerous when untested.
Toys that have an educational or skills-focused element are important for helping your children have fun while they learn and grow. Some good tools and toys for this purpose include puzzles, which teaches logical skills to children. Building toys, such as Lego, improve your child's fine motor skills, creativity, team work and abstract thinking. Puppets and finger puppets can also be effective at teaching your child role playing skills, communication skills and general social skills.
Musical instruments, such as child-sized guitars, keyboards or xylophones are a wonderful way to encourage music appreciation and logic skills in your child. For improvement of mathematical skills and fine motor skills, toys such as train sets are a good investment. By challenging a child's ability to plan the logical path of their train and figure out where tracks should go to get their train from on point to another, your child will develop increased abilities to make logical decisions to achieve a specific outcome.
Finally, purchasing toys like dolls, dollhouses or action figures are a wonderful psychological tool for child play. Dolls and dollhouses allow children to reenact scenes from their day and express their thoughts through play. They also encourage creativity, communication, and social skills.
Articles related to your search: