2017's top trends in interior decorating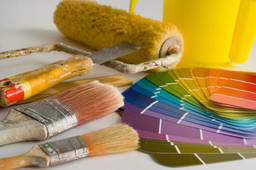 Redecorating is one of the most exciting stages in home design because it gives homeowners a chance to express their creativity and structure their living spaces to reflect individual ideas about comfort and aesthetics.
Keeping up with the top interior design trends is not imperative, but can be helpful for homeowners who want a fresh design, but are bored of older trends and design tastes. Here are the top trends of 2017 in interior design to get you started on your decorating journey:
Bright green has been flagged as the perfect colour pop for cushions and throws, as well as decorative accessories. For the brave, a bright cherry green can lift a boring room and make it truly fresh and light. For darker colour schemes, navy blue has been touted as the new alternative to black.
Butterflies are another increasingly popular design implement in the home. They are popular in wall design motifs, wallpaper, colour schemes and fabric patterns. butterflies are not just for the children's room, they can add a quirky touch of colour and shape to any living space.
Mixed patterns have in past times been avoided as a major design error. However, if they are used right, they add a truly original flair to your home design. Think mixed pattern quilts, patchwork cushions, and colourful, but controlled, areas of clashing patterns in your decorative pieces.
Practicality and cost saving is also infiltrating the trends of 2017. Faux materials are becoming increasingly popular because improved technology has allowed them to match their real counterparts in feel, colour and texture, but at half the price and often with increased durability.
Faux wood ceiling beams are a good example of this trend's benefits. Fair wood can not rot, bend over time or attract pests. Other areas in which you can see the faux trend emerge is in faux leather or foliage.
Articles related to your search: