Articles related to your search: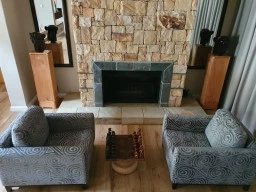 If you're selling your property, then consider this …
Have someone with a fresh pair of eyes, point out areas of your home that need work and consider the following.
Read more
Cushions and pillows
Cushions and pillows: an accessory for every room Cushions and pillows are among the most basic and effective aspects of décor in any room, whether it be a lounge, bedroom or dining room. Cusions and pillows are more than just decorative though, they have a functional role to play in that they lend comfort to furniture, or allow for a good night's sleep. Choosing the perfect cushions and  pillows for your home is, therefore, about finding the most aesthetically pleasing and highest quality product you can afford. Here are some tips to consider
Read more
Throws and Duvets
Redesigning your bedroom has never been easier. There is no need to go knocking down walls and ripping up carpets. The best way to turn your bedroom into a luxurious and stylish space? Your bedding. Despite the simple idea of changing your bedding, it is a task that needs careful thought and consideration in order to achieve the best results. Throughout this article, you can read a break down out what to think about before you make any decisions on your bedding. Layers and layers: If we are strictly speaking duvets and throws, these are the things that need to be considered; Duvets can be filled with a variety of different elements. They can be filled with feathers, cotton or down. A duvet is apiece that often sits at the end of the bed and can be pulled up if extra warmth is needed. A duvet undoubtedly adds a sense of comfort and luxury, and is an essential piece when putting together your bed. Keep in mind that the inner part of the duvet should be sent to a professional cleaner, as they are prone to water damage. The cover of your duvet, however, should be suitable to be cleaned at home in the washing machine. The task of redoing your bedding will never be complete without careful consideration of the blankets you use. You need to consider the material, colour and weight of the blanket. During warm, summer seasons, opt for a lightweight fabric that will not leave your sweaty and uncomfortable. During colder seasons, there are a variety of fabrics that blankets are made in. You can choose fabrics such as cashmere, wool and fleece. A Little Extra The throws, blankets and duvets that you use can be pulled together by other elements such as pillows (accent and sham), as well as bed skirts. Shame pillows are pillows that are used for decorative purpose. They are covered in material that co-ordinates with the sheets, duvets and throws on the bed. They are great for creating a unified look within your bedding. Accent pillows, however, are used to stand out. They are often perfectly contrasted to the bedding, to create a sense of depth and style. Bed skirts are a great way to ensure that your bedding looks complete. They can be purchased in dreamy ruffles or crisp, modern designs – the choice is yours! They are also practical for allowing you to store items under your bed that ca be easily hidden. It is undeniably simple to redo your bedding, and a fun project to ensure that your room stays fresh and up to date. For more articles that interest you, please feel free to visit our homepage.
Read more