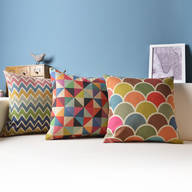 Cushions and pillows: an accessory for every room
---
Cushions and pillows are among the most basic and effective aspects of décor in any room, whether it be a lounge, bedroom or dining room. Cushions and pillows are more than just decorative though, they have a functional role to play in that they lend comfort to furniture, or allow for a good night's sleep. Choosing the perfect cushions and pillows for your home is therefore about finding the most aesthetically pleasing and highest quality product you can afford. Here are some tips to consider when you choose cushions and pillows for your home:
Always be guided by your surroundings
When settling on a selection of cushions and pillows, pay attention to the surrounding design of the room you are going to put them in. The size of the furniture your cushions and pillows will be placed on, as well as the colour scheme of the room and the purpose that the room itself serves, should affect how you choose your cushions and pillows. For example, in a small lounge with two-seater couches, extremely large cushions will overwhelm the furniture. The purpose of the room also has a role to play, for example, if one is choosing cushions for a baby's nursery or an adult bedroom, the colour scheme, shape and pattern of the cushions and pillows must reflect the age of those who will use the room.
Buy your cushions and pillows like you buy your shoes
When you buy a pair of shoes, you are usually just as aware of the comfort and fit of the shoes as you are of their design. The same principle applies to cushions and pillows which must be chosen with a special emphasis on their quality, durability and the materials used. Homeowner's should also make sure they choose cushions and pillows that suit the environment for which they are intended. For example, cushions for outdoor furniture need to have weather-proof material that will not be bleached by the sun after one week outdoors.
Choose cushions and pillows that are different to your furniture
Cushions and pillows provide an unique opportunity to add different materials, textures, colours and shapes to an otherwise uniform room. Choose cushions that give a pop of colour to your couches and avoid matching cushion fabrics to couch fabrics as this makes the furniture look dull and flat. Also experiment with different textures. Foe example, consider using satin fabrics in one's pillows against a cotton bedspread.
There are so many design options for homeowners choosing cushions and pillows for their homes and being adventurous and unique will go a long way to giving your home a personalized touch.