How to design a more Eco-Friendly Home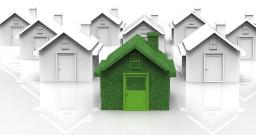 New homeowners are increasingly looking for homes with the lowest possible running costs
How to design a more Eco-Friendly Home
New homeowners are increasingly looking for homes with the lowest possible running costs. With constantly rising electricity costs, load-shedding, water costs, and even water-shedding, home buyers are starting to insist on eco-friendly and energy-efficient homes.
For any building to receive a certificate of occupancy, every professional involved - from the designer to the builder - needs to comply with SANS standard 10400-XA building standards. These "Green" building standards don't only entail using high-tech or expensive solutions but include the provision for simpler solutions such as orientation of the home on the site and the choice of building materials.
Specifications include:
The use of high-quality roofing insulation such as polystyrene ceiling boards, roll-on glass wool insulation, or blankets to prevent energy and heat loss or gain through the roof.
All hot water pipework must be insulated to a minimum level of thermal resistance.
Window building specifications prescribing the window area in relation to the net floor area. This allows more natural light and reduces heat losses, reducing the need for energy-intensive lighting and heating costs.
Design
Energy-efficient homes focus on thermal-passive design, building insulation and orientation. In South Africa, this means homes should be north facing to maximise light and heat in winter. Overhangs are also used to limit heat gain in summer, this reduces the energy costs associated with cooling down the building.
The building should be oriented to take the best advantage of seasonal sun angles, for passive heating and cooling and maximum solar energy production. For solar panels, a direct northern roof orientation is most preferable and efficient.
Solar
With South Africa being very sunny, it makes sense to look at solar technology for an efficient energy supply. Although the installation costs are higher than conventional power supply, they are now within reach for far more people than ever before. Costs can usually be recouped within five to seven years, making solar power far more feasible than in the past.
A solar energy specialist contractor can perform a site analysis to be sure that sufficient sunlight is available on the wall or roof surfaces and will be able to suggest the optimal orientation and size of the solar surfaces. Although few sites will be perfect, choosing the best available site will pay off in lower construction and running costs - and better living.
Costs
Many technologies can also be retrofitted to existing homes to reduce the long-term ownership costs and monthly energy costs. Previously, the cost of retrofitting was recoverable over 20 years, but this has now dropped to five to seven years, making energy efficiency far more feasible for all homeowners.
Articles related to your search: