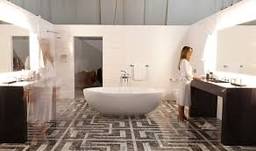 Tile Suppliers
---
Choosing the correct tiles for your home is an important and vital task. Choosing the right tiles will ensure aesthetic benefits as well as durability.
A tile supplier should be able to offer the following services
- Advice on the suitability of tiles for certain areas in your home
- Ordering of tiles, as well as extras in case of breakages or chipping in the future
- Advice on color, patterns and pattern matching
- Calculating how many tiles you should purchase
- Selecting tiles to match your budget
- Providing any other materials to complete the job, e.g. grout and adhesive
- Advice on how to best lay the tiles
A general supplier will stock a variety of brands of tiles. A good retailer should be able to find tiles to suit almost any project in their stores. They usually stock specialist tile types such as granite and will also supply a range of products to enable you to complete the project.
Hardware stores will usually stock a limited range of tiles but stock many of the materials needed to complete the project.
Specialist Tile suppliers often specialize in particular brands of tiles e.g. sandstone, granite or marble. They may or may not carry all of the materials needed to complete the project!
Please see our homepage for more articles that may interest you