Articles related to your search: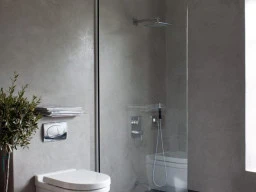 Toilet Types
Consult a specialist bathroom or toilet supplier to advise you on the options available. Installation should be undertaken by a qualified and licensed plumber. There are a number of toilet ranges available Types - Floor mounted toilets, the pan is on the floor and the cistern hidden in the wall providing a clean minimalist look - Wall hung toilets, the pan is mounted with a wall bracket with the cistern in the wall - Close coupled toilets, the cistern is positioned above the bowl allowing all pipes to be hidden within the toilet - Corner unit toilets, are able to be positioned neatly in the corner of the room - Link unit toilets, have a separate pan and cistern, a pipe links the two together - Disability toilets, allow for easy wheelchair transfer, specially designed seats and raised flush buttons - Dual flush toilets, assist in water efficiency, a single water flush for liquid and a double flush for solids - S trap and p trap, an s trap toilet's outlet pipe exits via the floor and the p trap's waste exits through the wall!
Read more

Basins and Sinks
Bathroom Basins and Sinks Designing your bathroom can be a daunting task – but it doesn't have to be. Choosing pieces for your bathroom that suit your needs, style and home is pivotal. This goes straight from choosing bigger elements such as baths and showers, right down to choosing basins and sinks. A basin is where you will spend a vast majority of time in your bathroom. It is where you brush your teeth, do your hair and get ready for the day. Therefore, it's important that you understand which basin or sink will be most suited to your style and needs! Here are a few tips to choosing the best basin for your bathroom. All in One Sinks: These sinks are the ones you see that are grouped with a counter top. They are made mostly of smooth, sleek materials. These sinks are perfect for renovations that are pressed for time. Most bathroom retailers will sell these types of sinks straight off the shelf, making them a convenient and easy investment. This type of sink is a prime choice for busy bathrooms that are used by many members of the family. Because of their streamlined design, they are remarkably easy to clean and wipe down. However, one must keep in mind that they are not designed to surface a variety of items and are limited in terms of space. Top-Mount Sink: This is one of the most commonly used sinks. It is designed for most of the sink to sit below the counter, with the rim of the sink protruding above. It is up to you to decide just how much of the sink it above the surface of the counter. These sinks are perfect for anybody who is after a minimal, elegant and clean cut design. Another benefit of these sinks is that they are extremely flexible in terms f what materials can be used. There is less water damage due to the fact that they cut-out is completely covered by the sink, meaning that you can use materials such as laminate or wood. Wall-Mounted Sink: Just as its name suggests, a wall-mounted sink is one that is positioned directly onto your wall. It is not placed on a counter and therefore creates a pleasing illusion of space in your bathroom. This sink is a perfect choice for a modern, minimal bathroom. Your plumbing and pipes will have to be installed behind your walls in order for this look to work well. This design is ideal for small spaces and for people who do not require a vast amount of storage space in their bathroom. Pedestal Sink: This sink is ideal for the traditional home owner. It simple and elegant style speaks entirely of classic style. It is also convenient and beneficial for home owners who have a waste pipe that goes through the floor and cannot be changed or removed. This sink is a great choice for an aesthetically pleasing look.
Read more