Bath Resurfacing Specialist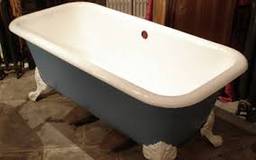 Bath Resurfacing
---
The bathroom is definitely one of the most important rooms in the house as it used daily for cleaning and definitely relaxation too. A well-designed bathroom in good condition means that you will get the most from it. When your bathroom surfaces, tiles and fixtures are looking worn, cracked, chipped or faded, resurfacing, rather than replacing, could be the answer. Resurfacing should often be a cheaper alternative to replacing a bathroom and involves a heavy new glossy surface applied on top of any porcelain, ceramic or fibreglass.
Many services can be provided including:
· A change of colour
· Removal and reinstallation of drain and overflow piece
· Re-sealing of tub and tile join
· Polishing the tub
· Cleaning and polishing all chrome fixtures
· Application of polymer glaze to increase hardness and durability of surface
· Resurfacing a ceramic tile walls
· Restoration of antique tubs and sinks
· Chip and scratch repair on ceramic and fibreglass
· Design and installation of custom built tubs and surround
· Formica counter tops
Resurfacing is not appropriate where crumbling or badly deteriorated surfaces are present.
Resurfacing your bath and basin
Too start the area to be treated must be prepared and the room blocked off during the process. It is terribly important that the area where you wish to work in is kept dry as if any moisture seeps in a bubble in the finish will appear and will begin to come apart. A bonding agent is applied to the surface and when set, the new finish is sprayed on. The finish is cured with heat and then polished and a fresh mildew resistant caulk is applied to all seams. Normally, a standard resurfacing job can be done safely and effectively in two days.
Hiring help to resurface your bath and basin
Some do it yourself resurfacing kits can be of assistance if the bath or surface is only slightly scratched or with a small chip, however usually professional assistance is needed for larger jobs.

Take your time and consider carefully before hiring a bathroom re-surfacer as replacing the work will be a wasteful exercise. Only hire someone with a warranty on their work and those that use safe, authorised products. Watch out for workmen that may use low quality coating materials, and accredited bathroom surfaces are preferred. Always ask during the quotation process if work is guaranteed and check on the homeimprovement4u.co.za for reviews and comments of previous work done.

If possible try and make sure the workman is covered by his company's insurance as the process is dangerous and if anything goes wrong it can be quite harmful to your health!
Please see our homepage for more articles that may interest you.