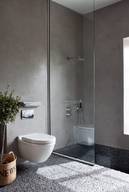 Toilet Types
---
The style and type of any toilet is a decision that is based on practicalty aswell as personal taste. Consult a specialist bathroom or toilet supplier to advise you on the options available. Installation should be undertaken by a qualified and licensed plumber.
There are a number of different toilet types for you to choose from, a few are mentioned below:
Floor Mounted Toilets
With Floor Mounted Toilets, the pan is on the floor and the cistern hidden in the wall providing a clean minimalist look for your bathroom.
Wall Hung Toilets
Wall Hung Toilets require that he pan is mounted with a wall bracket with the cistern in the wall.
Close Coupled Toilets
Installing Close Couples Toilets in your bathroom requires that the cistern is positioned above the bowl allowing all pipes to be hidden within the toilet.
Corner Unit Toilets
Corner Unit Toilets are able to be positioned neatly in the corner of the room, which is convenient for space and privacy.
Link Unit Toilets
Link Unit Toilets have a separate pan and cistern whilst a pipe links the two together.
Dual flush toilets
Tihis type of toilet assists in water efficiency and uses a single water flush for liquid and a double flush for solids.
http://www.homeimprovement4u.co.za/directory/category/bathroom-renovations-and-improvements/bathroom-accessories/
Whichever type of toilet is most suited to your home, HomeImprovement4U will ensure you find the best proffesionals in your area to do the job. Please visit our homepage for more articles that may interest you.
Articles related to your search: