A guide to popular window designs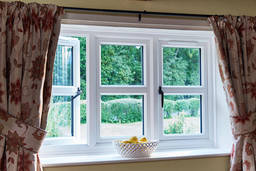 Windows are a vital part of any home design for both practical and aesthetic reasons. Windows express your design tastes through colour choice, shape, tint, and size, but are also an important source of natural light and fresh air. Here is a list of the most popular window designs to consider when you are planning your dream home.
Double-hung windows are composed of two sashes that slide up and down vertically within a frame. Double-hung windows have the benefit of being able to open wide from either the top or the bottom but remain inside their frames without extending into the interior or exterior of the home. A single-hung window differs in that the bottom part of the window operates to open and close while the top remains stationary.
Casement windows are hinged and open and close into the interior or exterior of the home. This type of window can be hinged on either the left or the right. Awning windows have hinges at the top and open outward. Awning windows can be placed alongside stationary windows.
Picture windows are perfect for those who want to show off views around their home. If you wish your home to have minimalistic and simple indoor decor, picture windows are also a good option because of their simplicity. They are stationary and mainly serve to function as a natural source of light and and aesthetic enhancement.
Slider windows are advantageous because they do not take up space by opening into the interior or exterior of the house. Rather, slider windows glide horizontally on a smooth track to let in fresh air.
Stationary windows are a wonderful design implement and natural source of light in the home. They don't open or close but create a break in your walling for beautiful views and light.
Articles related to your search: