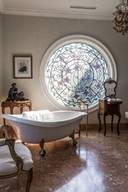 Stained Glass
---
Stained glass traditionlly brings to mind images of church windows and gorgeous cathedrals, but it can also be a wonderful feature in the home, and is only limited by your imagination and perceptions. Stained glass can be used for feature windows, shower screens, mirrors, splash backs, furniture inserts, glass coffee tables, lamp shades and mosaics.
The making of stained glass is an intricate and delicate process that is appreciated by people around the world. Stained glass is the hand painted and kiln-fired components of a leadlight. In stained glass, the colours used actually fuse to the glass in a way so that the colour becomes a part of the glass itself. A leadlight window can have elements of stained glass within it or it can be completely made from stained glass. Leadlight replicas are made using resins or films that are applied to the glass and adhesive lead. In this case, the colour is not a permanent part of the glass.
There are leadlights and zinclights. Leadlights have joining strips appearing to be black or dark grey and, if scratched there is silver underneath the dark coating, the lead appears soft. Leadlights can use any glass colour. Zinclights are where the joint strips appear to look silver or like aged aluminium, if scratched the metal feels hard. These are common in art décor style door panels and windows, where the glass used is clear and varies in texture.
Leadlighting and Stained Glass Services
---
Stained glass/ leadlighting professionals provide the following services:
- Restoring and or repairing of leadlights
- Conservation of stained glass windows or other
- Custom designed leadlights
- Cleaning of stained glass panels
- Insurance work
- Consultation in the home
If you consider yourself to be daring and expiremental enough to add this beautiful aesthtic in your home, please visit our homepage for more articles that may interest you.