Top tips for cleaning glass surfaces in the home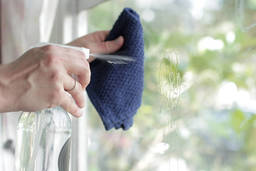 Cleaning the glass surfaces in your home, such as windows or mirrors, should be done with specific methods in mind to ensure you achieve a spotless, clear, and highly reflective surface. Follow these simple tips to ensure you give your glass the most thorough clean possible:
Use an absorbent sponge with only a little moisture to wipe your glass clean. This will minimise the number of times you need to rewipe an area of glass, which is important in terms of minimising streaks once your cleaning solution has dried.
Choose to wash your windows on a cloudy day. Although it may seem more logical to wash your windows on a sunny day when exposure to the sun will ensure quick drying, washing your windows on sunny days can often increase the chance that your window will be left with streaks and residue after cleaning. This is because window wash that dries too quickly often leaves soap sud patterns on your glass surface.
Clean the corners of your mirrors or windows with cotton swabs. This will ensure you gain access to those tricky spots that larger sponges can not reach.
If you want to save on household cleaning products when it comes to cleaning your windows, consider using an old t-shirt to wipe down your windows as this can often be just as effective as paper towels or kitchen cloths.
A final tip to note is to take care when cleaning glass in wooden frames. Certain window or glass cleaners can damage or discolour wood. Ensure you choose a cleaner that is safe for wood and use all cleaners sparingly when cleaning close to wooden frames