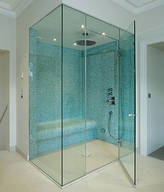 Frameless glass is a perfectly customised for areas like showers. Be prepared to see your bathroom in a whole new light, with more open space and a modern look! When designing your shower you are going to want to decide where the shower head is and how you want your shower to look inside.
Whether you are wanting an open plan shower with no door or one with a door it is important to plan the entrance into your shower. This should benefit you so that you can reach the taps from the door or have enoug space on the sides to stand. This will app be affected by where you place your frameless glass. When you have seen the bathroom, decide whether you are going to have the shower on a raised platoform or you are going to have it flush on the floor. You will then have you create the dip of the floor for the water to drain.
The height of your glass must be on how you want to set your shower, it is also important to remember to have a strong material above the shower, this could be surfaced with tile or or other water-resistant material, not painted sheetrock. The choice in glas has widened over time, you can now get completely see through to glass that you can barely see through. Some have designs on them now for more aesthetic in some houses. On top of your glass it is good to add some more add ons to add to the look of the frameless glass these could be Hinges, pulls, clamps, towel bars and hooks range from traditional elegance to sleek minimalism.
Frameless glass is also known to be used for veranda doors, these are turned into sliding doors that let in a beautiful amount of light even when closed. They can be installed in large open doors or even as windows to give yuor house a more modern look to it.