Designing and maintaining your ceilings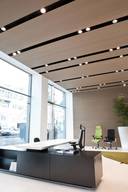 There are a wide variety of options to choose from when it comes to selecting the perfect ceiling for your home. Ceilings are an often overlooked part of design. However, they can, when chosen well, add an additional dimension of good design to one's home whether one wants a ceiling to complement modern, basic or classical homes.
One of the most common types of ceiling used in residential homes are plasterboard ceilings, but homeowners should consider other ceiling types to suit specific design or function-related needs.
Dropped ceilings are good options for homeowners who need to conceal electrical or ventilation systems in the ceiling. Decorative ceiling options include coffered or stretched ceilings. Coffered ceilings have indented panels displayed in creative patterns to give the ceiling a more ornate appearance with the benefit of added structural integrity. Stretch ceilings are composed of material like stretched PVC to give a ceiling more flexibility in terms of shape and design. Beam ceilings complement country or farm-style homes. This traditional style of ceiling exposes the load bearing beams that hold up the structure to make for an old-world look.
The acoustic and lighting properties of a room are directly affected by the structure of its ceiling, which is why a carefully considered choice is important. Vermiculite ceilings, otherwise known as popcorn ceilings, are a brilliant solution for homeowners who need sound or fireproofing for their home. In addition to this, the general structure of a home can also affect which ceiling is right for it. Multi-story homes would benefit from hollow-core slab ceilings, which are extra-strong, yet lightweight, which makes them a safe option.
Basic maintenance of one's ceiling is important for safety and to sustain the durability of the ceiling. Look out for signs of water-damage, mould, sagging or discolouration in your ceiling and call a professional service to check its condition if any of these signs become apparent.