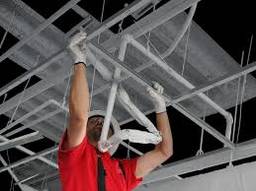 Ceilings are of course a necessary though often overlooked element of a room. This can be a pity as ceilings add a decorative element to a room. Of course their primary function is to conceal the roof structure or floor above.
High ceilings are great at creating a sense of space, but they will generally require the home to be heated more in the winter although they do make the home are cooler in summer.
Ceiling Materials
There is a large variety of styles and finishes available, ceilingboard or plasterboard is perhaps the most common suspended ceiling material in use today. Plasterboard or drywall is manufactured in sheets that are then attached to a concealed grid with screws or nails and then sealed.
Other common materials used include lightweight ceiling tiles, timber and decorative pressed metal ceilings. The latter were popular in period homes, with a variety of patterns and designs to choose from.
http://www.homeimprovement4u.co.za/directory/category/roofing-gutters/ceilings/ceiling-contractors-services/
Types of Ceilings
These are the most common types of ceilings you will encounter:

Suspended, false or drop ceiling – these are installed over a concealed grid below the roof
Panel ceiling - using timber or metal tiles this creates a decorative effect
Beam ceiling – this is a high timber ceiling, typically used in traditional styled homes
Vaulted ceiling - a curved ceiling often used to maximise space in a room
How Much Does it Cost to Install a Ceiling?

The cost of installing a ceiling will typically be calculated on the following factors - the area, materials used and labour charge. Generally you can expect to be quoted on a per square metre basis, with materials and labour individually itemised. Drywall or plasterboard ceilings are the most cost effective to install, with timber and decorative metal considerably more expensive. Expect mouldings and other decorative elements to add to the total cost of your ceiling job. Unless its someone you really want to use, try and get a few quotes and also have the professional come visit your home, factory or office so that there is no debate after.

Ceiling installers will often also offer a plastering and partitioning service which can be useful in one professional doing all!
Please see our homepage for more articles that may interest you;