Steam room repairs and maintenance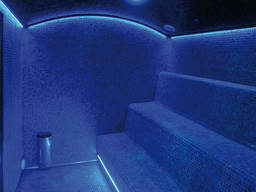 Now that you have got you steam room set up in your house, you have to think about maintaining it. This can be done with some simple hacks that will helpfully prevent there be any need to do repairs at all. If you perform these little hacks you're sauna will work efficiently and will last long.
The first thing you are going to want to do daily is spray and sweep you steam room, this will prevent there from being any build up of dirt. You can use a metal bristled broom and sweep this into the gutter you should have in the corner. This should happen on a regular basis for best effect. Once a month you should clean inside with soap and a scrubbing brush warm water and detergent, this will help get rid of any excess hard dirt that may be stuck in the grooves of your chosen floor material. Next thing that should be regularly checked and possibly cleaned is your steam system, this can be cleaned as per instructions on the machines manual, a disinfectant can usually be used on the fans and outer shell for help from germs.
The bulb of steam rooms does not have to be changed often but when it is changed remember to do so properly, if you use the incorrect bulb or a weaker bulb there could be problems with the lighting and possible safety issues. If you are using a cover over the light make sure that it is always firmly on and attahced. Remember it is also always a good idea to let the steam out of the steam room when you have finished, thisis for safety reasons for people who do not notice the damo floor.