A simple guide to artificial grass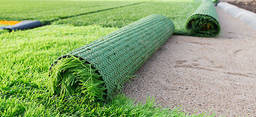 Artificial grass is an increasingly popular substitute for natural vegetation. Artificial grass had the benefit of requiring less maintenance than its natural counterpart and keeps a vibrant green colour all year round. For family members with sensitive skin or allergies to natural grass, artificial grass is also an advantageous choice. Here are some of the most popular types of artificial grass to consider if you plan to invest in artificial grass:
Nylon artificial grass is known for being the strongest and most resilient product in the artificial grass range and is able to keep its springiness and shape regardless of extensive foot traffic. Nylon artificial grass is also a suitable choice for homeowners who live in hot climates, as this type of artificial grass can withstand high temperatures. However, a disadvantage of nylon artificial grass is its texture, which is not soft or flexible like natural grass varieties.
Polyethylene differs from nylon artificial grass, as it is very similar in texture and colour to natural grass. For homeowners who want their artificial grass to appear as a natural as possible, polyethylene is their best option. Polyethylene is also a popular substitute for grass sports fields and is often used to turf soccer, athletics, or hockey fields. Polyethylene artificial grass can be reinforced with a combination of nylon artificial grass for increased resilience and durability.
For homeowners on a budget, polypropylene artificial grass is a favourable option as it is the cheapest artificial grass variety. However, it is important to balance this initial saving against the long-term maintenance costs that owning polypropylene artificial grass entails. Due to its less hardy and durable texture, polypropylene grass is subject to wear and tear at a faster rate than other artificial grass varieties and as a result may be a poor choice for homes in extreme climates or for homeowners who expect a lot of foot traffic on their grass, or wish to use it for sports.