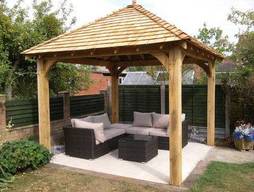 Pergolas will help you have that beautiful structure in your backyard to give you shade, cover your hot tub, or simply define an outdoor space into something special. This can be done all on your own and let you add that last aesthetic touch.
When building a wooden patio cover there are many types of wood to choose from. The most important thing to consider is the outdoor durability of the wood you select. If you are by the coast a very good wood to look at it Ipe, this is because it is very durable in salty conditions. Another popular type of wood to use is Redwood, this a very durable type of wood and is very well known for its attractive natural colour. A simple concrete flooring built as the base of your pergolas as a secure grouding is recommended for a better look and safety.
A garden gazebo is a beautiful outdoor structure. It is usually built having 8 sides. Most garden gazebos make a great shade pavilion. Building the roofing of your gazebo is very important, Metal roofing can be used as a base cover for other materials in order to make it more durable. Some homeowners prefer a glass or plastic roofing material. The placement of your Gazebo or Pergalos is usually recommended to be by a pool or with a nice view of the graden.