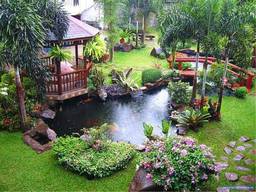 It is true that the garden is the most important place of the house, you can always go and relax in the sun on a hot summers day or you could be having a cup of coffee on a cold winter morning. This means that it is very important to make your garden as relaxing and serene as possible.
If you are looking for a more nature friendly enviroment one of the most popular garden ornaments is a bird bath, these bring in a variety of species of bird that can be watched. They come in various shapes and sizes, this will let you choose one that best suits your garden and the look you want. Planters are also good tou have around the rim of your garden close to your house, these can be any type of pot plant that you choose. Growing your favourite plants in these can brighten up your day as you see them and take care of them. Installing a fountain can be a long process but if you want a nice soothing sound in your garden as the water runs and there is a high chance that this will also attract differnt typs of birds.
If you want to build up your garden more for aesthetic there are many other types of ornaments to put down. One of these is a sun dial, teach yourself how to use a sun dial and put one in your garden this is a nice old fashioned attachment to your house (be sure to check if your placement of sundial gets enough sunlight). Another ornament that you can put in your garden that is highly recommended is furniture, this can be metal or wooden and is usually recommended to be placed in shade, this can be a very relaxing spot to have a drink in the afternoon after work.
Tip: Adding some light to your garden is always a good idea, when hosting guests for a dinner or a party it is safer and gives the outisde area a more ambient look.