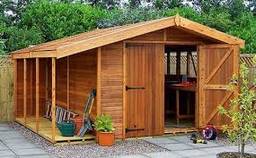 Sheds
Sheds can be a great addition to your home. There are many types of sheds to choose from.
You need to look at what kind of shed you want to buy or build considering factors pertinent to your own particular circumstances including what you want to use the shed for, your budget, aesthetics, what materials are available to you and in certain circumstances topography.
Various shed options include:
· Prefabricated sheds, a shed that comes in kit form, with all the relevant parts
· Heritage sheds, may be installed or are also available in prefabricated form. Heritage sheds are a little more expensive but add value onto your home and are visually appealing.
· Stone sheds add value to your home and require very little maintance. They are expensive to build due to the cost of the stone and skill needed to build them.
· Timber sheds can be built from a variety of wood, with either pitched or flat roofs.
· Steel sheds are a good choice as they are cost effective and low maintenance!
http://www.homeimprovement4u.co.za/directory/category/landscaping-gardens/garden-guard-huts/
Please see our homepage for more articles that may interest you;