How to update your kitchen cabinets with paint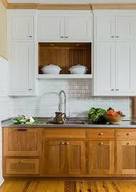 Have your kitchen cabinets gone from new to vintage to what you consider an eyesore?
Have your kitchen cabinets gone from new to vintage to what you consider an eyesore? Does it feel like you should be wearing bell bottoms and a butterfly collar when you're reaching for a plate? If you said yes, perhaps it's time to admit your cabinets need a refresh. Getting a new look doesn't have to set you back thousands of rands. Instead, consider how paint could transform your kitchen cabinets.
Let's take a look at when paint works, what colors of paint to use on your cabinets and how to paint your kitchen cabinets yourself.
Should You Repaint or Replace Your Kitchen Cabinets?
Before you begin repainting, first analyze the "bones" of your existing cabinets to make sure they are in stable enough condition to repaint. Chipping or cracked wood or water damage are warning signs that they might need to be replaced, not just repainted. Additionally, if the cabinetry does not function well enough for you and your family to use, you may want to also consider replacement. If you determine your cabinets are in good condition but simply need a refresh, you are a prime candidate for cabinet repainting.
Paint Color Considerations
Kitchens are the gathering place in the home, so you want to be sure the overall design is welcoming and reflects the aesthetic of the house.
For cabinets, many times I find that neutral paint, such as white, beige and gray, will give your kitchen a welcoming and clean look.
White Cabinets Remain at the Top of Kitchen Wish Lists
You can also paint in more than one color to reflect your style. The island is a great place to bring in a bright or moody color. This will turn the island into a focal point.
Another option is using two-tone combinations to add a little bit of drama and contrast. When incorporating a two-tone color design, always be sure to anchor the
kitchen by using the darker color on the bottom cabinet and lighter on top.
For Kitchen design ideas and professional installers please contact Sterling Trading Enterprises:
Articles related to your search: