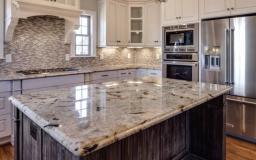 There is no way to have one defined way of cleaning a counter top, each type will have it own recommended chemicals and materials to clean, here we will try give you a rough idea on how to clean your counter tops.
Granite
It is very recommended to not use acidic cleaning products when using it on granite, it can cause visible damage that would ruin the look of it. This is why it is only recommended to use warm water and a normal house soap, this should also be done with a wet sponge or a soft cloth.
Wood
Wood is very susceptible to water damage, so try to wipe up anything that may have been spilled, this will help you to prevent stains and keep countertops as dry as possible, If you have stains a really good idea is to use Chlorine bleach and warm water, the ratio is usually 1/4 cup to one full cup. To remove odours rubbing the area with half a lemon can take it away.
Stainless Steel
This countertop can be very delicate, it is effected by many chemicals and leaves a mark for good if it does. To give stainless steel a good wash it is recommedned to use warm water and a small amount of baking soda, and always thoroughly dry after cleaning so ther are no water spots.