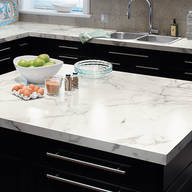 Countertops for a Beautiful (and Busy) Kitchen
---
There is a vast array of patterns, textures, colours and materials varying from quartz to concrete to choose from when it comes to fitting your kitchen countertops. Countertops are an essential part of both your kitchen's aesthetic appeal and practicality. They need to compliment the surrounding interior, be able to withstand the action of a busy kitchen and be easy to clean themselves. This short guide will help you find the perfect combination of all these factors and more.
Five of the most popular countertop materials include natural stone, plastic laminate, ceramic tile and wood. A popular example of a natural stone countertop material is granite. As it comes in a variety of colours from black, to blues to browns, it can suit the colour scheme of most kitchens. Granite countertops are treated with a sealer that renders the stone water-resistant and lasts for ten to fifteen years. Granite is impressively durable and can withstand high temperatures, sharp knives and all manner of stains and spills. Although not the cheapest option, it is certainly a product that will give you long term value for money.
Plastic laminate, otherwise known as Formica, is another long-lasting and tough countertop material. Plastic laminate is constructed from kraft paper infused with resins and is one of the most versatile products as it comes in hundreds of imaginative patterns, colours and textures. It is recommended that matte or fine matte plastic laminate is used for kitchen countertops.
For a more classic aesthetic, ceramic tile is a timeless option to give your kitchen a quirky, vintage appeal. Ceramic tile is an ideal option for kitchen islands, counters or cutting and washing stations. Make sure you use tiles that are designed for use on floors, as wall tiles on a counter may crack or shatter. Another classic countertop option that will give your kitchen an earthy, country atmosphere, is wood. Wood can be sealed with a polyurethane seal for a high gloss finish, or a more naturally beautiful, but less shiny, mineral oil finish. Consider using one of these popular types of wood if you wish to install wooden countertops in your kitchen; rock maple, teak, walnut, cherry or oak.
Whether you're building or redesigning your kitchen, remember to choose countertop materials that are both functional and beautiful. The kitchen is the centre of the family, enjoy making yours a compliment to both your home and lifestyle with the help of Home Improvement 4U.