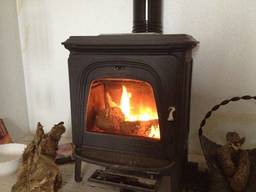 Wood fired heating is growing in popularity all over the world. The rising cost of gas and electricity is one reason, but the growing interest of a wood fire is a major motivation, along with a better understanding that firewood qualifies as a renewable.
There are several types of wood heaters to choose from these can be Free standing slow combustion heaters, which typically have a clear glass door so the fire can be seen, These are very common in Australia. Fireplace inserts which fit into open fire places are also seen often in homes. This lets the heat of the fire seep out of the fire place and the charm of the fire stays as well. Modern heaters transfer heat into the room in three ways, by radiation, by natural convection and by fan forced convection. The choice you make should be based on what is your main goal with the heater, do you want to warm the whole house, a single room, or just to introduce some ambiance into your house when guests come.
Installing your own wood heater is not recommended as it is a very dangerous and particular job, but once you have one it is very important to maintain it properly. Firstly one of the most important things you will need to know is what you can and cant burn in your wood heater. Do not burn trash for you fire as there may be a chance of starting a chimnet fire, the best choice is just tpo burn wood and ontop of that It is best to burn only seasoned wood for maximum heat release. Build small, hot fires for maximum burning of volatile gases and for fewer air quality and other safety problems.